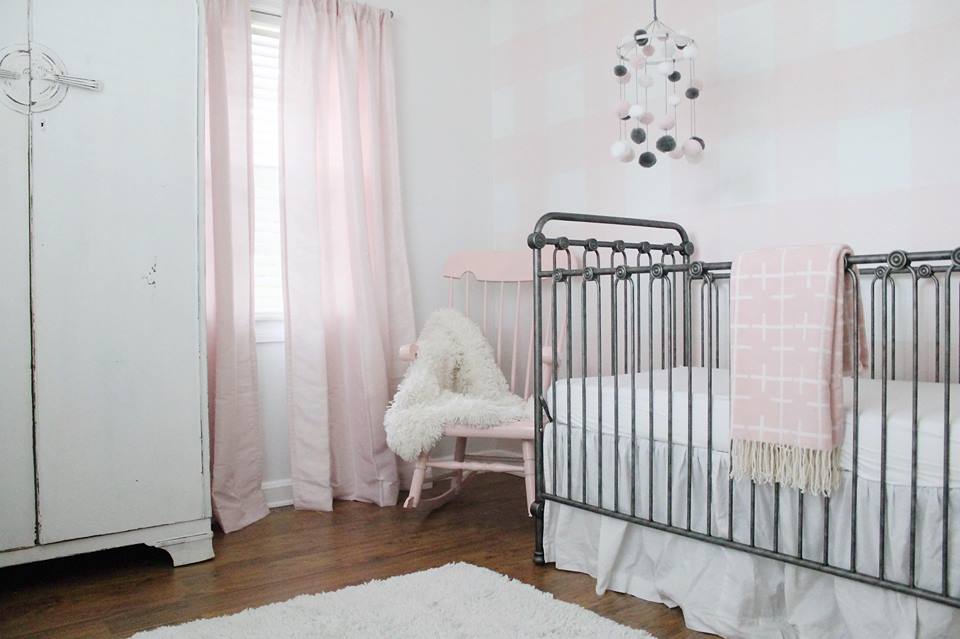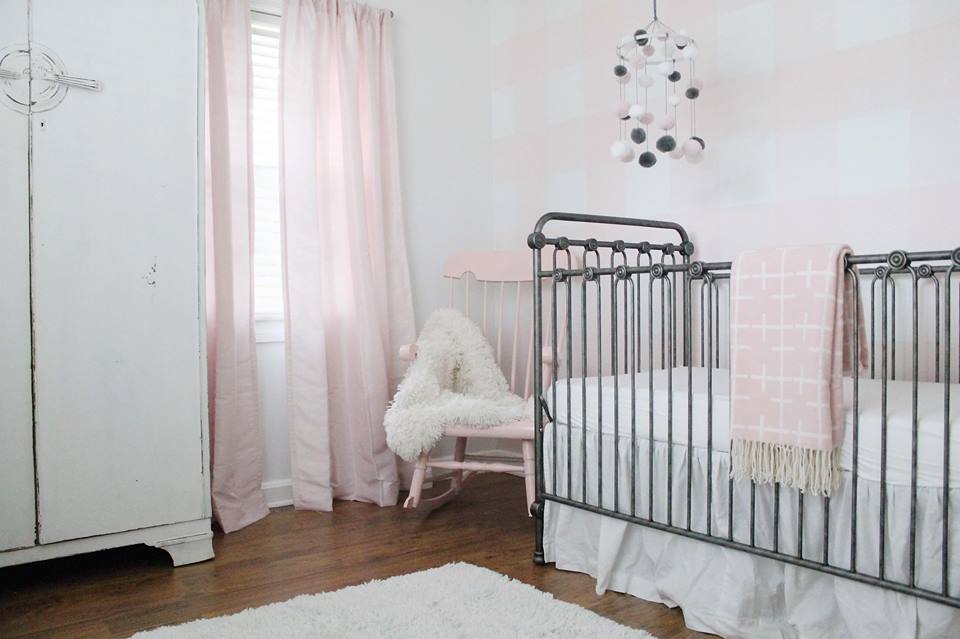 A few months ago I decided that I wanted to do a buffalo check accent wall behind the crib in baby sisters room. After I saw a picture on dearlillie's Instagram of a room wallpapered in pink buffalo check, I fell in love. I found two wall papers that I loved. This one and this one. I figured up how much I would need and then had a thought.. what if I could paint it? So, I started googling and decided that yes…it could be done. I knew my mom was coming down so I talked her into helping me because she is the BEST at projects. There were several different methods that I read about but this is the one that I decided on and it worked perfectly.
I wanted mine to have the watercolor look. Not a perfect stripe of color. Faded in some places and darker in others. The Magnolia Wallpaper is a good example of that. So, this is what we did.
What you need:
Base Color- I used Sherwin Williams HGTV Home Infinity Interior in Oxford White (Satin) 100% believe in using a good paint for the base.
Stripe Color- Sherwin Williams HGTV Home in Cachet Pink (Satin). I got one quart and had enough to probably paint the entire room.
Clear Glaze- Benjamin Moore acrylic mixing glaze in clear. Also got a quart of this.
Frog Tape
Tape Measure
Laser Level or Chalk line (see below why I am against using a chalk line)
Paint Rollers and brushes. You'll need a small roller for the stripes.
*We used a chalk line. I had used one before to do stripes in Covington's room and it worked perfectly. As far as measuring and doing the lines it does exactly what it needs to…with paint. But when you mix your glaze with the paint …the chalk line does NOT come off of the glaze. Trust me we learned this the hard way. So, do yourself a favor and use a laser level.
What to do:
Measure your wall. Decide about how big you want your stripes to be. This is the hardest part. I sent my dad the measurements of my wall and we figured out about how big to do them. The perimeter stripes were 6 inches and the rest of my stripes were 9 inches. This is what fit my wall, so everyones will vary.
Paint your wall with the base color. Let dry 24 hours. (You don't want to tape on top of paint that hasn't dried for about 24 hours.)Before. 
Measure and tape off your stripes horizontally. Tape inside the line of the wall color. So when you look at your wall taped off the tape should only touch in the white part. It makes them not look even but they will be when you pull the tape off. If it helps, put a piece of tape on every stripe you want to be white so you don't get confused. 
Now you have to decide if you want your top and bottom stripe to be your base color or your accent color. I chose to do the top and bottom pink.
Mix your stripe color and your glaze. I did 40% paint to 60% glaze. Some tutorials called for 2 parts glaze to 1 part paint, but I cant imagine doing it any thinner than I did.
Roll every other stripe with your color of choice. I only did one coat. Like I said, it looks like water color paint. It isn't perfect but that is exactly how I wanted it. 
Remove the tape and let dry for at least 24 hours. The glazes takes a little longer to dry than regular paint.
Measure off and tape your stripes vertically. See the dots on the wall? That is to make sure I didn't forget and paint the wrong ones. 
I started my stripes this way with white on the edges, so i started with pink on the second stripe. By mixing the paint with glaze, it makes two coats a darker shade than one. So, every square that intersects will be a darker shade.
Remove the tape and let dry.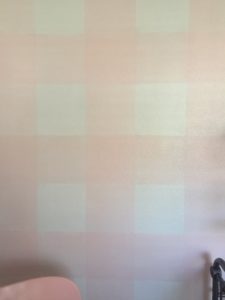 I could not be happier with how it turned out. It is exactly what I wanted! I would do it again and again. It was so much easier than I thought it would be. The measuring is the trickiest part, but anyone can do it. WAY easier and cheaper than wallpaper!! Added bonus is you pick the size of your check and the exact color you want!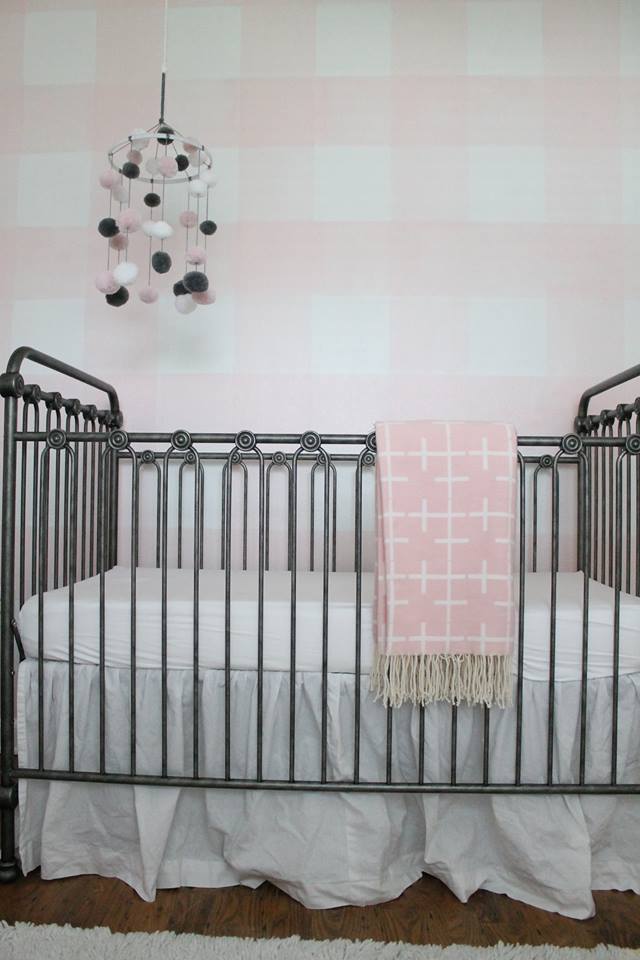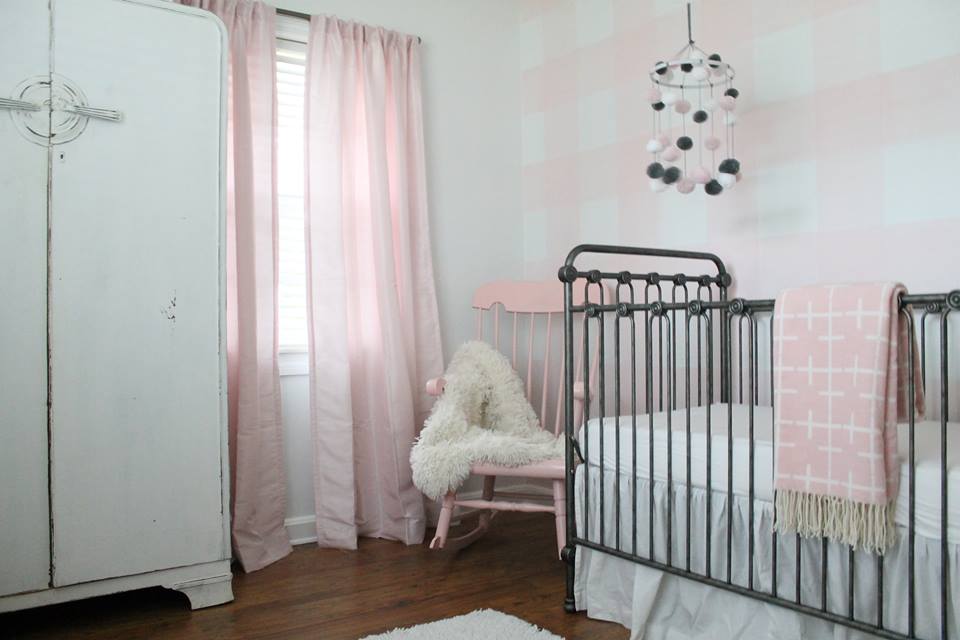 I didn't edit or brighten these photos because I wanted you to see exactly what the color looks like raw (:
Thank you thank you to my Mama. She pretty much did all the work for me and I can't thank her enough!