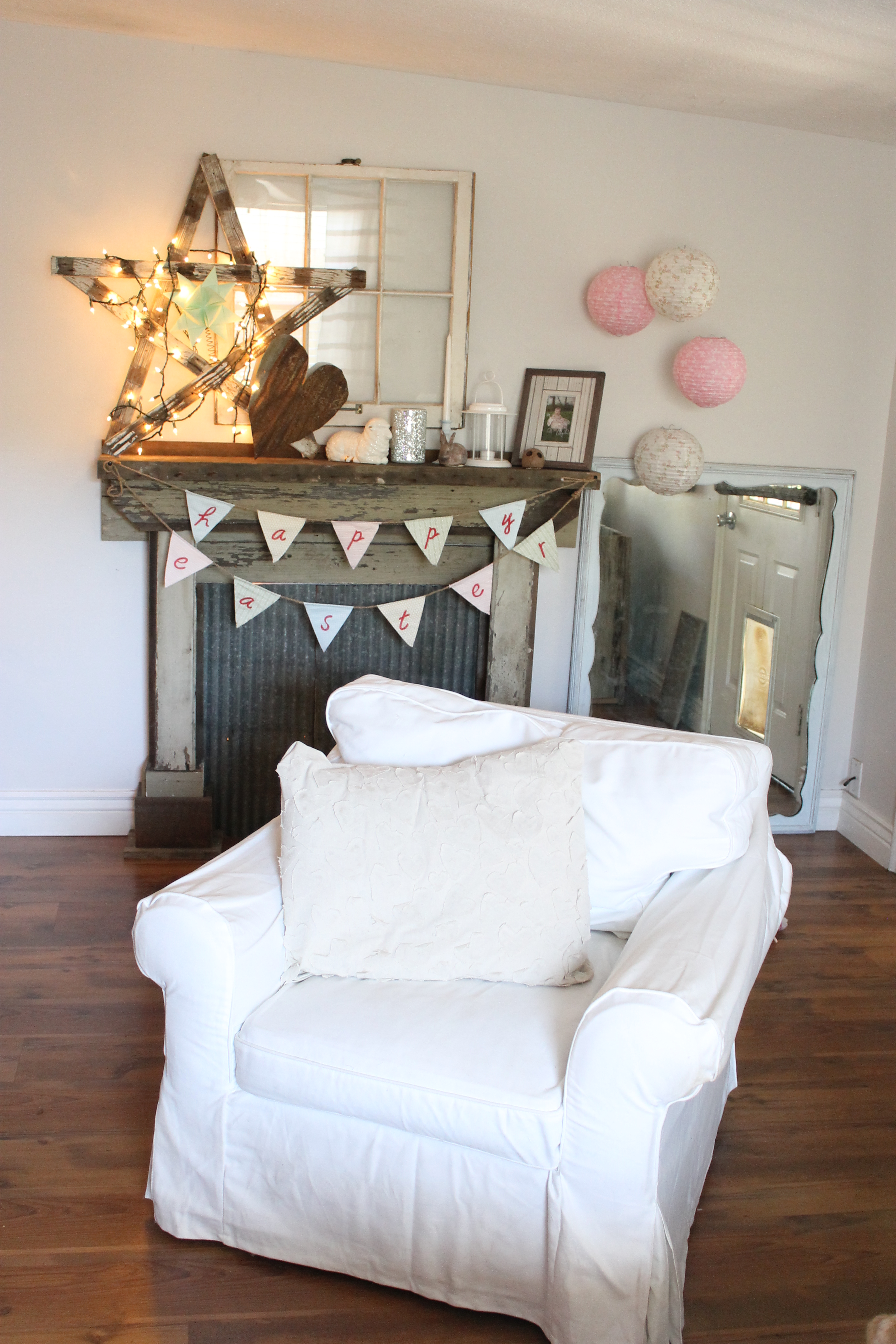 Easter decorations are my absolute favorite!! The pretty pastel colors and cute bunnies ahh I just LOVE them!!
I decided to do a house tour starting with our living room…
Miss Marley doesn't want to miss out on anything.. Nothing like decorating your house with a dog door 🙂 At least she's happy!!
Pillow is DIY! https://www.mysouthernmommy.com/diypillow/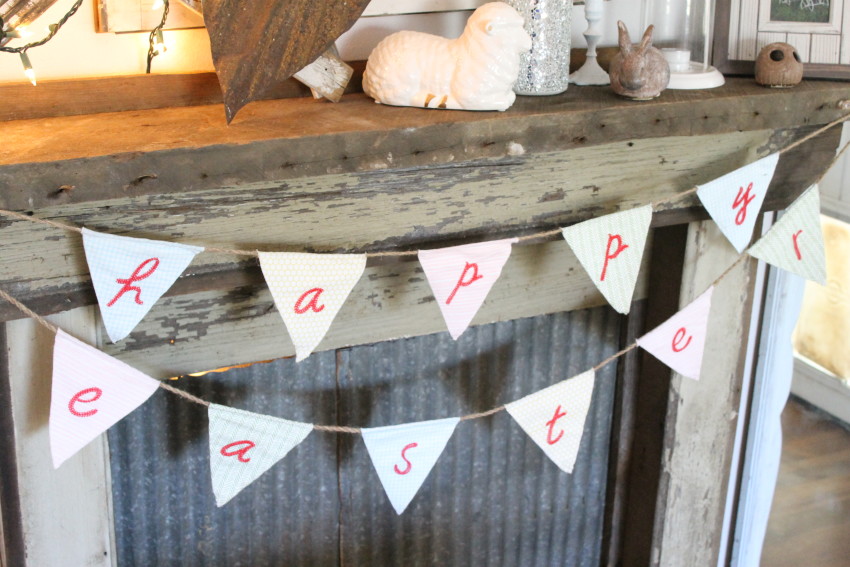 Our Easter Mantle!! This is always my go to spot for Holiday decorating.. It changes as the wind blows and I love it!
Banner- Target no longer available (this years version) http://www.target.com/p/happy-easter-garland/-/A-16604212#prodSlot=medium_1_6&term=happy+easter+banner Green Star- Anthropologie no longer available. White Star,Tin Heart, and Mantle are made with love by my parents. Sheep -Target http://www.target.com/p/ceramic-sheep/-/A-16604215#prodSlot=medium_4_20&term=easter Candle Holders- Hobby Lobby. Bunny and Owl-McCarty Pottery mccartyspottery.com Lantern-Target no longer available (similar here http://www.target.com/p/thrshd-outdoor-lantern/-/A-16293030#prodSlot=medium_1_1&term=lantern
Paper Lanterns-Michaels
A lot of our furniture has been passed onto us so I have no idea where some of it came from. Our chair is from Pearson and it is slip covered with Ikea's Ektorp Chair Cover in Blekinge White http://www.ikea.com/us/en/catalog/products/70047594/ Side Tables and Wooden Frames are made by my parents. Pillows are from Ikea, Home Goods, and Tuesday Morning. Couch and Ottoman were gifted to us from my in-laws and I recovered the ottoman. Ottoman decorations: Rug- Ikea http://www.ikea.com/us/en/catalog/products/70026822/ Plate TJ Maxx, Coffee Mug- Anthropologie, Vase-Ikea.  Lamps were my Husbands in College and I repainted them.. (Searching for some new ones 🙂 ) Baby girls seat in the house is the Mamaroo  http://www.shop4moms.com/the-mamaroo/. Love Seat also another of my Husbands from college slip covered in a target slip cover( hopefully about to be replaced as well!) Rug-Target http://www.target.com/p/xhilaration-shag-rug/-/A-14619534#prodSlot=medium_1_1&term=xhilaration+rug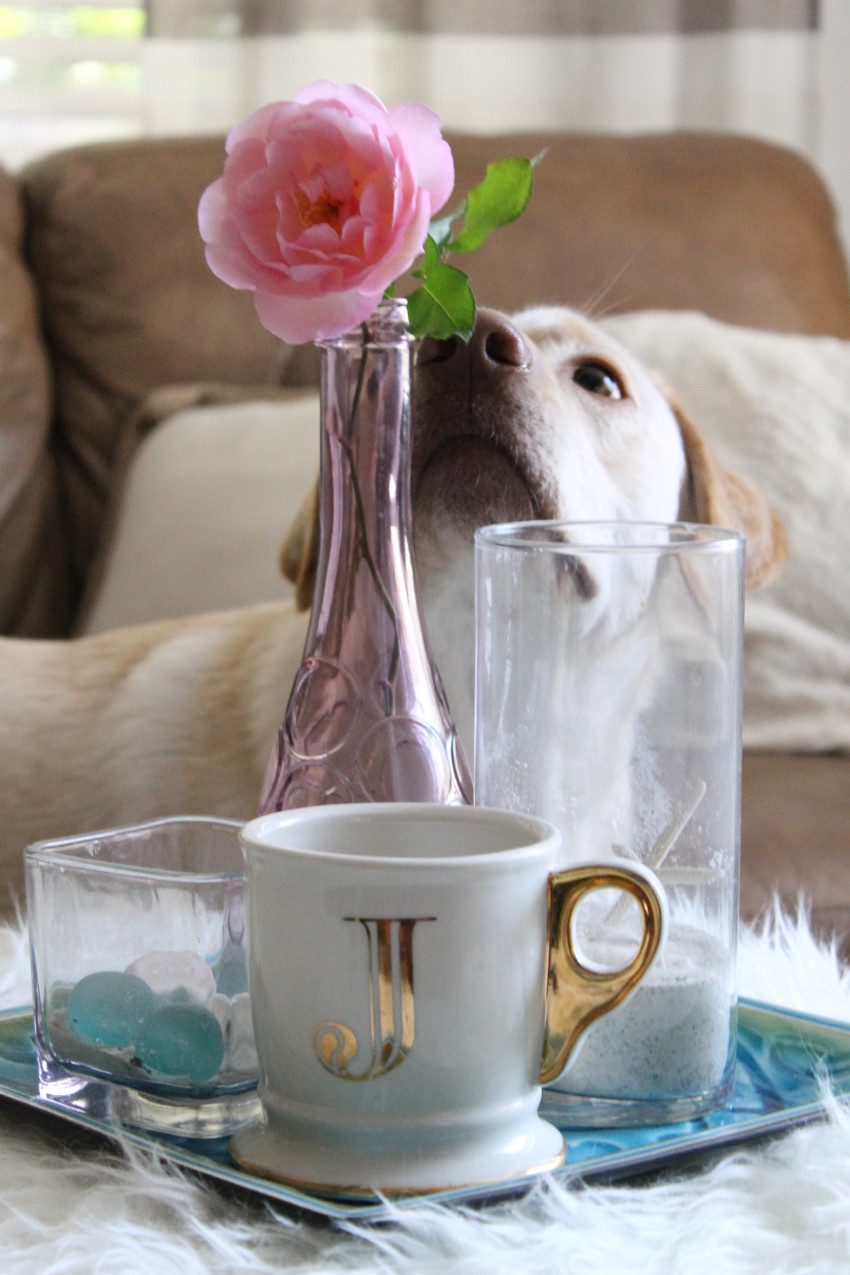 The glass apothecary jars are from the Dollar Store filled with sand, starfish, sea biscuits, and sea glass from our beautiful Island
Curtains- Tuesday Morning ,Pillows- Ikea, Hobby Lobby,  Whales- made by my parents