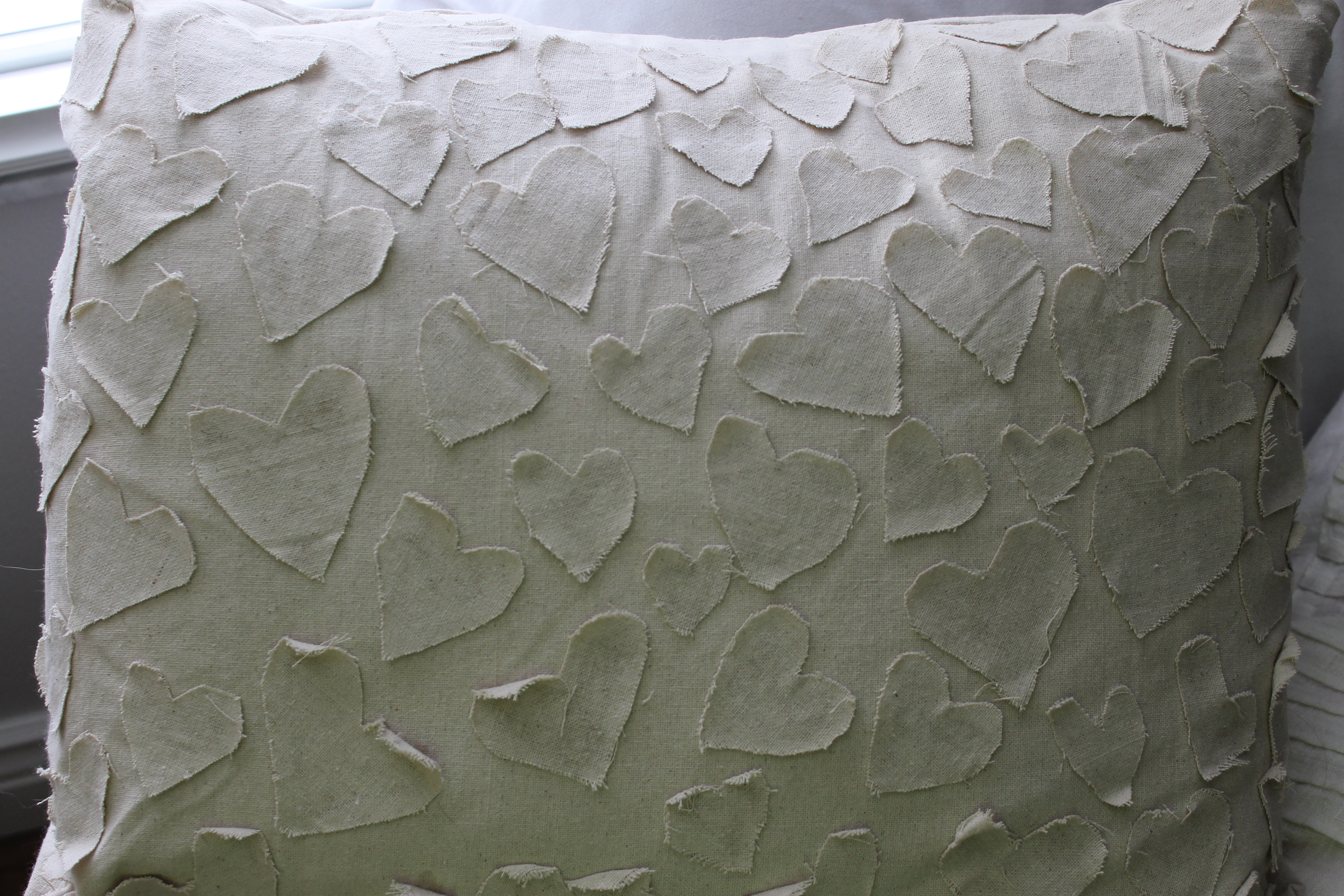 This is SUPER easy !! I copied it, in my own way, like the one from Anthropologie that was $198.
Mine only cost around $20!!!
I bought a down filled 26×26 insert from IKEA for around $15. IKEA is the BEST place for pillow inserts. The same inserts from Anthropologie are atleast $100. I bought a drop cloth from the hardware store for $12. I could make around 3 pillow covers out of this.
 I started off by making an envelope pillow case.  https://acuriouslychiclife.wordpress.com/2012/12/15/diy-pillowcase/ This is a super easy tutorial I found on pinterest.
 After making the cover you want to cut out your hearts. This is where you get to use your own creativity and decide what you want yours to look like… I took some of my remaining drop cloth and drew out little hearts all in various sizes and cut them out. I cut out a lot! I wanted to have plenty to overlap in some places and to fill up the pillow. When you are finished cutting them out place a piece of card board in your case to make sure you don't glue your fabric together. With fabric glue I glued on the hearts.I only glued my hearts in the middle so they could fray just a little on the outsides.
I let mine dry until the next day to make sure it was good and dry. You could stitch on your hearts but I wasn't about all of that.. Just make sure that you use a fabric glue that is washable. If you are like me with babies and dogs I have to wash constantly..Give this a try! It is a super easy way to get an expensive pillow for a lot cheaper:) You could even make it your own and change it up and do whatever shapes or design you would like.
My Anthro inspiration