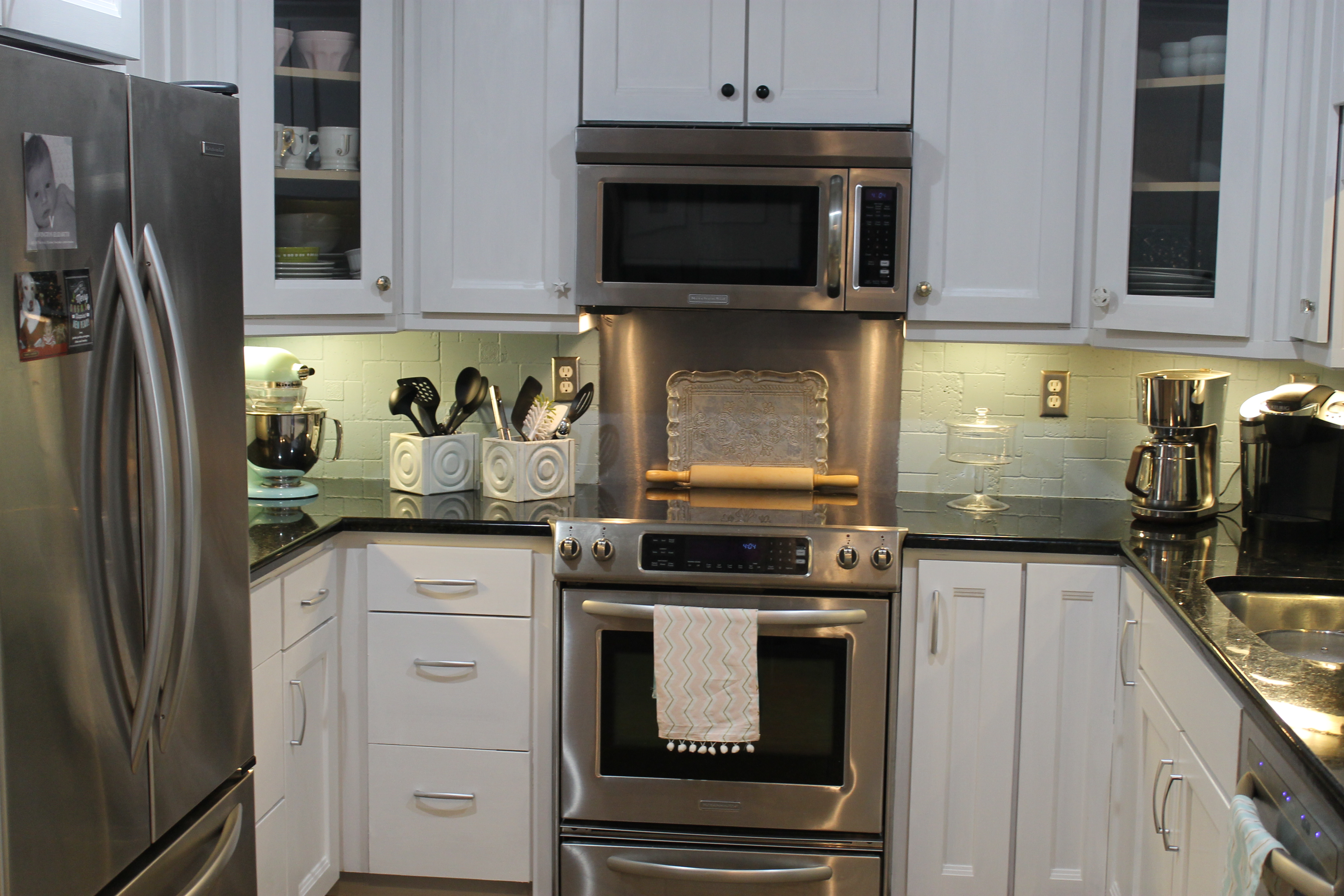 Since we've moved into our house I've wanted to get my hands our cabinets. They were completely not my taste and did not match the rest of our home. With a 7 month old I was too afraid to tackle them alone! I waited until my mom came to visit. I sweet talked her into helping me. My poor mom. She drove 13 hours to come paint cabinets.
She has painted a lot of cabinets in her day unlike myself . We did our research and decided to try this chalk paint everyone had been raving about. We bought all the supplies we were supposed to and we were chomping at the bit to dive into this project. I went with the color pure white. Who doesn't love a good clean white cabinet? I decided against distressing them, like I initially thought I wanted to do, because I hated the original color and I didn't want to muddy them up with the dark stain. So …Here is my experience with this famous chalk paint..[pullquote align=right] I added a mixture of different fun knobs!! I am still searching for a few more that I LOVE!! I picked these up at Anthropologie and Hobby Lobby 🙂 [/pullquote]
First, we removed all the knobs and scrubbed down the cabinets . Since this particular paint doesn't require sanding , it was time to paint. After the first coat was on we were ready for a new can of paint and a large cocktail. We called it a night and started up again the next morning. Two coats later no one wanted to hear the name cabinet or Annie Sloan. We honestly probably could've put one more coat on them but it wasn't happening and they looked great as is. Here comes the bad part. You have to now wax them. I was terrified to mess them up. We had read a lot , A LOT of reviews ( yes, this should've been a sign) on how hard this is to do. So, I let my mom have a round at it because I wasn't going to be the one to mess these up! Let me just tell you what… It sucks! We could not get it even. It even darkened the color a little bit. So, after working on one door for forty forevers we said screw it. First of all we couldn't make it look right . Second of all, we weren't going to spend a month trying to finish one coat of wax, wait 24 hours and do a second coat! It is also recommended to rewax often. Are they serious?! So, what did we do? Drove ourselves to Lowes and got some water based Polycrylic and painted it on those bad boys! Why did we even attempt another way?
So after 3 quarts of ASCP ($42/qt), AS clearwax (on one cabinet) , and a quart of Polycrylic we were DONE! I hope I can report back in a year and say that they have held up and that I still love them!
For backsplash makeover https://www.mysouthernmommy.com/our-super-affordable-backsplash-makeover